Meet Dr. Chase Ethridge
My Track Record as a Doctor:
11 Years in Practice and Never 'Cured' Anyone…but still have hundreds and hundreds of happy patients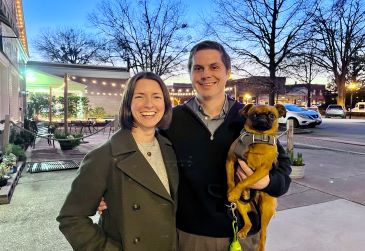 Dr. Chase, his wife Kim, and Mr. Higgins
What you're about to read may surprise you. It might make you mad. You might wonder why no one ever told you this before. And what I'm about to tell you may actually change your life. For 11 years now, I've been helping people—many folks just like you—who couldn't find help anywhere else. They were frustrated after being told nothing could be done…that they'd just have to 'live with it'. But there's a different way. And it may be a better way for You.
But before I tell you about that, let me give you a little background. It's "my story"…
I was in my Junior year at UGA, and I was a mess…physically and mentally. So, I started riding my mountain bike again, and got so inspired, that I started swimming and running, too, with a goal to finish my first Triathlon. I was on an emotional and physical high for about nine months…until I started getting injured.
I tried to push through the pain, but it got so bad that I could barely walk. A doctor told me I had something called "plantar fasciitis" (I couldn't even pronounce it!). Then my lower back started killing me—it hurt so bad I couldn't even swim! I was desperate. I tried every kind of stretching/therapy could get my hands on, but nothing helped. I felt hopeless.
But That Wasn't the End of It
But one day, a friend told me about a doctor who had helped him with his foot pain and back pain. I had already given up, but decided to give it one last try. Oh, did I mention that this doctor was a Chiropractor? Now, I'd never seen a chiropractor before, and frankly I was a little afraid of it.
The Better Way Revealed
I was amazed at how calm and confident the Doctor was when he told me he had helped many people like me. Finally! This new doctor did an exam and 'adjusted' my spine, hips, and feet. The adjustment didn't hurt–it actually felt good!
After the first visit, I knew I was in the right place. Six weeks later, I was riding my bike and running again. That's when I knew that I wanted to be a chiropractor myself!
I practice with two friends of mine, Dr. Vince Campbell and Dr. Elise Faust, at Madison Family Chiropractors. Our staff is friendly and helpful, and we love what we do.
People from Madison and the surrounding area come to see us about their athletic injuries, too. But, they also come to us with their:
Headaches
Neck Pain
Shoulder/Arm Pain
Asthma/Allergies
Digestive Problems
Back pain/Sciatica
Just to name a few…
Here's how we're helping some of your neighbors —after just six visits:
"More energy, fewer headaches."
"Lower back improvement, hip getting better."
"Better sleep and less acid reflux."
"Feel looser, can breathe easier."
"My neck pain is gone."
"Less back pain, better sleep."
But I can't take the credit… Here's the most important thing I have to say: Your body is made to heal itself, and it does that best when it's free from nerve interference. So, as much as I'd like the credit, I can't take it. Fact is, in 11 years I've never healed anyone of anything. I analyze the nervous system and the spine, and make specific spinal adjustments to remove nerve pressure. The body responds, and usually it heals itself.
My Gift to You…
I may not be able to guarantee a miracle (which Doctor can, anyway?). But I CAN offer you this gift: Our New Patient Introduction–including your consultation, exam, and your first adjustment–everything you need to get started–for only $97.
No other hidden fees. No contracts. No scolding. Nothing standing in the way of You and your chance for better Health. (by Federal Law, this offer is not valid to Medicare patients…but we still love to take care of our Medicare patients.)
Our goal is to give you the best care we possibly can…you decide how much you want. You'll get great care at a great fee. I'm making this special offer to help more people who need care. Our office is friendly and warm. Dr. Vince, Dr. Elise, and our Office Manager, Colleen, always try our best to help you feel at home.
We have a wonderful service, at an exceptional fee.  Call us today for an appointment. We can help you.
Thank you and God Bless.
P.S. – My health suffered for months and months before my friend alerted me to the gift of Chiropractic. You don't have to suffer like that. We can help.
---
Dr. Chase Ethridge | (706) 342-7115